Stirlitz Media Inspector: the copyrights owners best friend
Which radio and tv stations are playing my music, when and how often? With dwindling sales of sound carriers, revenues from airplay are becoming more and more important for artists, labels, composers and music publishers.
Of course you can rely on reports by monitoring companies, but why would you, when all you are interested in is knowing who is playing your songs… ALL your songs?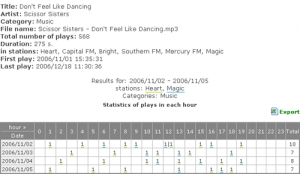 Just load your new release into the system with a few mouse-clicks and Stirlitz Media Inspector does the rest. From now on you can see which stations are spinning your record, from your desktop and from wherever you are. With Stirlitz Media Inspector you can create customized reports for on screen usage and downloads. Standard reports include:
simple play-reports, per day, per station
compare plays for multiple stations
track rotation reports (see how stations rotate your track)
airplay statistics
Contact us so we can show you what Stirlitz Media Inspector can do for your company. Or have a look at the more detailed description of Stirlitz Media Inspector features.