What is Stirlitz Media Inspector?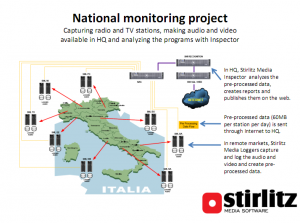 Stirlitz Media Inspector is developed for:
TV and radio broadcasters interested in verifying their own play-out and monitoring the output of competitors
music companies, rights holders and their representatives interested in monitoring airplay of their music
advertising companies that want to monitor their own ads and those of the competition
Stirlitz Media Inspector gives you:
Instant access to airplay analysis and reports, on screen or as downloads
Unlimited audio-base of songs, jingles and/or advertisements
The possibility to analyse multiple audio-streams simultaneously
Easy procedure to add new songs or advertisements to your audiobase
Super simple configuration and an intuitive user interface.
Data export (such as broadcast logs statistics and rotations) to third applications
Re-creation of clocks, based on monitored data combined with stored meta-data
See the identified tracks/ads on the famous 'Stirlitz Media Timeline'
Detailed customized reports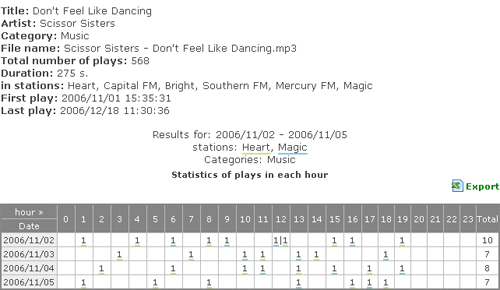 10 minute demo
contact us for a personal demostration.
We'll show you how Inspector detects content and makes results available in a a standard webinterface, in SML Players and in an open database for integration with 3rd party solutions.
How Stirlitz Media Inspector works
For a program that will reveal all music rotation secrets of your competitor, Stirlitz Media Inspector (SMI) works surprisingly easily. Just feed the server with the audio streams of the stations (analog, digital, terrestrial, cable, satellite, Internet) you want to monitor and import your own library from any of the main commercially available play-out systems.
From now on SMI will recognise every track played on the monitored stations as long as it 'knows' the track. The system even finds and presents the user a list of repeating unrecognised audio, allowing the user to quickly add the right metadata to this audio, or to mark it as 'ignore'. Remaining gaps can easily be filled by marking the beginning and ending of a track and enter the metadata in the system. New releases can simply be copied to a folder and SMI will automatically load it into the system.
SMI achieves a very high recognition percentage with a minimal level of false hits thanks to its great tolerance for audio disturbances such as noise, crackling etc.
SMI generates various on-screen or downloadable reports. You actually see your competitors' playlist shaping up in semi-real time, or you can browse back in history dragging the unique 'Timeline'. SMI can compare rotations of multiple tracks on multiple stations and can even assist in re-creating your competitors' clocks.
For the music and advertising industries SMI monitors rotations of tracks and ads on as many stations as you need.
SMI is the ideal alternative for slow, expensive and inflexible reports from monitoring companies.