Stirlitz Media Inspector: the most flexible ad monitoring devise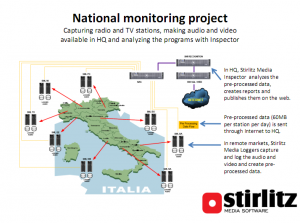 What stations aired our commercial and when?
Simple, just open your web browser and within a few mouse-clicks you have the report on screen and ready for download.
The commercial isn't loaded in the database yet?
No worries. Uploading it is a matter of a few mouseclicks and Stirlitz Media Inspector will immediately start to search 'the history', beginning with 'now' and working its way backwards. Grab a coffee and you will have the most relevant information, what happened the last 24 hours, on your screen within minutes. From this moment onwards, Stirlitz Media Inspector will automatically recognize and mark every occurrence of your ad. No further action required.
Compare your exposure with that of the competition… Load your competitors advertisement, give it another code and color and, thanks to the advanced graphical statistical reports, you can even compare exposure without looking at actual numbers!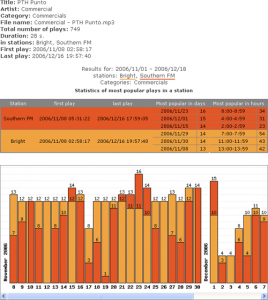 For detailed analysis Stirlitz Media Inspector can generate detailed reports on screen, or downloadable reports, including spreadsheets.
Needless to say that you can do this at work, but also from a hotel room in the Spanish Riviera!
With Stirlitz Media Inspector you are in control!